Hideo Wakamatsu Tarpaulin Trolley 19" Khaki
Product details of Hideo Wakamatsu Tarpaulin Trolley 19" Khaki

Hideo Wakamatsu is a Japanese designer based in Tokyo. He draws on Japanese and French design traditions to create carrying accessories with a unique blend of style, function and value. For years, Hideo's travel designs have led the market with innovations in style and function, at top quality and reasonable prices. Innovations include bright colors, photo-crisp graphics, soft "silent-moving" wheels, four-wheel "top-spin" trolleys, ultra-light materials and more.
Combining Japanese heritage and sensibility with contemporary design and techniques, Hideo Wakamatsu bags are the ultimate blend of style, function and value.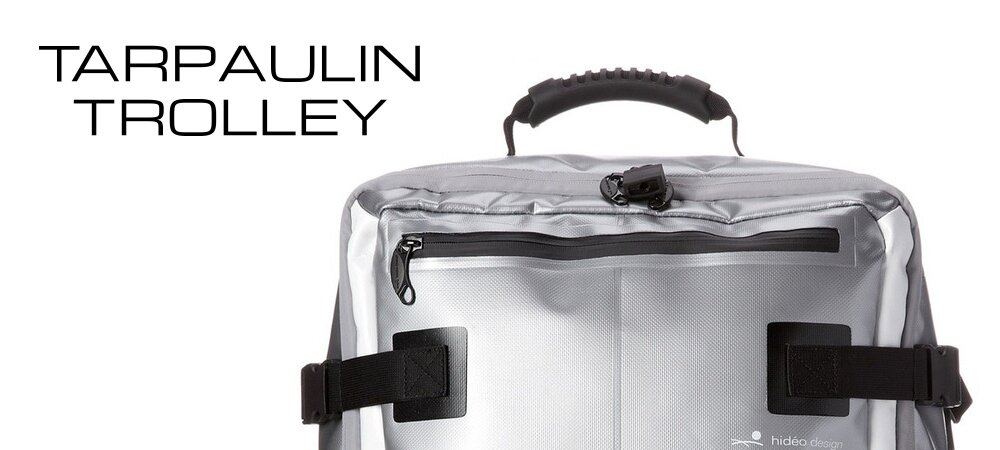 Hideo Wakamatsu Tarpaulin Trolley Series - For keen travellers and off-road adventurers!
The ultra-cool and tough cabin size retro Waterproof 'Tarpaulin' Trolley range with Wheels is the most versatile luggage on the market. Its made of the highest-grade tarpaulin, the stuff you might use to keep rain off your tent, only higher quality. The waterproof material is shred resistant – so this is the perfect companion for people who need luggage that they can rely on, when the going gets tough.
Hideo Wakamatsu has designed this soft sided suitcase to meet a variety of travel requirements. It can be used as a suitcase, or as a wheeled trolley with its sturdy height-adjustable telescopic handle. It also has a top grab handle to give you a choice of carrying positions. You can release the external straps to expand the bag, or tighten them if you're travelling light. Every detail has been thought out – such as the waterproof front pocket for storing a 15" laptop.
The external zips take their design inspiration from the marine industry, to prevent water from leaking into your bag. No matter what the weather, the Tarpaulin Trolley will keep your contents dry.
Inside, the high quality functionality continues. The azure blue lining is of superior grade fabric and the 2 zipped mesh compartments and adjustable securing straps allow you to keep your valuables secure. The main compartment has a generous 26-litre capacity. The TSA padlock ensures that your contents are protected.
Features:
- Soft Sided Waterproof Carry On Cabin Trolley
- Made of lightweight, water-resistant and shred-resistant tarpaulin
- Cabin luggage - meets IATA guidelines
- Height-adjustable high grade aluminium telescopic handle
- Top grab handle
- 2 zipped water-repellent external pockets
- 2 zipped internal mesh pockets
- 4 adjustable external straps to enable reduction of main compartment size
- Heavy duty zips embossed with Hideo Wakamatsu logo
- Internal straps to secure contents
- Heavyweight abrasion resistant lining
- Front pocket can accommodate 15" laptop
- 2 silent running wheels
- Padlock & 2 keys